One of the criticism of alternative energy has been that it takes petroleum to produce the alternative energy. Today, BioSolar, a developer of technology to produce bio-based materials from renewable plant sources, has announced that it has begun commercial production and sales of its bio-based backsheet for solar panels. BioBacksheet is a protective backing for photovoltaic (PV) solar modules that replaces current, more expensive and environmentally hazardous petroleum-based backsheets.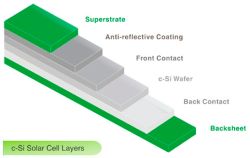 "This day has been four years in the making. We have finally completed the development of the world's first commercial grade green backsheet and are ramping up production and are able to accept and fulfill orders," said Dr. David Lee, CEO of BioSolar. "Over the past month, we have been demonstrating the BioBacksheet to major solar panel manufacturers. They are all excited about the BioBacksheet due to its high durability and improved performance over other backsheets on the market, and have requested large quantities for full scale integration trials into their solar panel production lines."
According to the company, the primary material used in the BioBacksheet is a durable polyamide resin made from castor beans. During the extrusion process, the castor beans are compounded with a secondary non-petroleum material to form a unique and highly durable PV backsheet film. Company literature notes that in addition to being "green," the produce has several other advantages including a single layer construction design that does not exhibit inter-layer de-lamination, a common problem in conventional laminated backsheets. This feature makes the BioBacksheet more reliable as well as more cost-effective as compared to petroleum-based backsheets.
Lee concluded, "A backsheet that is made from green sources and costs less is good for business, and good for the solar industry. This a very important inflection point in BioSolar's growth and we are extremely proud and excited about our accomplishments. We look forward to being a significant player in the solar industry."