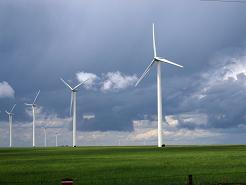 The Tennessee Valley Authority is now transmitting clean, wind energy to some of its customers.

This TVA press release says 300 megawatts of power from Iberdrola Renewables Inc.'s Streator Cayuga Ridge wind park in Illinois is the first delivery under seven contracts that will total 1,380 megawatts from Midwest wind farms:
"Activation of this new wind-power source is an important milestone in our plans to expand TVA's clean and renewable energy options," said John Trawick, TVA senior vice president of Commercial Operations and Pricing. "We anticipate a long and productive working relationship with Iberdrola Renewables as we continue to grow our alternative energy portfolio."
The Iberdrola Renewables purchase agreement is the largest of TVA's wind- power contracts, which altogether may provide enough electricity for about 325,000 average-size homes in the TVA service region.
"Iberdrola Renewables will begin delivering power to TVA under our largest single power purchase agreement to date," said Ralph Currey, CEO of Iberdrola Renewables. "TVA is an important new customer for us and we look forward to supplying clean, renewable energy for years to come."
The next purchased wind addition to the TVA power grid will be 115 megawatts scheduled to arrive this fall from Horizon Wind Energy LLC's Pioneer Prairie wind farm in Howard and Mitchell counties in Iowa.
TVA officials say they have to get the wind power from out of the Southeastern U.S. region because winds in that area are less reliable.