The Alternative Fuel Vehicle Institute (AFVI) 2010 Conference is now in full swing in Las Vegas. The 16th annual event is offering its attendees a wide array of workshops and sessions concentrated on alternative fuels and advanced technology vehicles.
The AFVI show kicked off on Sunday featuring speakers on compressed natural gas (CNG), propane, biodiesel, electric and ethanol. Nearly 90 exhibitor booths opened on Monday at noon including companies such as General Motors, Toyota, Ford, the National Biodiesel Board, Dresser Wayne, and Honda among others.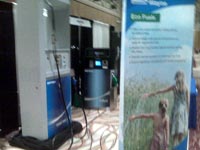 In their booth, Dresser Wayne is displaying a CNG dispenser, E85 fleet dispenser and a diesel exhaust fluid dispenser (see right). "It's always a good opportunity to participate in a show like this to learn about about emerging opportunities relating to alternative fuels," noted Dresser Wayne's Director, Alternative Energy Products, Scott Negley.
A "Ride-n-Drive" also took place today offering attendees a chance to experience how an alternative vehicle feels on the road. Vehicles included in the Ride-n-Drive included: Ford E-250 (Propane); THINK THINK City (Electric); Camry (Hybrid); Highlander (Hybrid); Prius (Hybrid); Prius (Plug-in Hybrid); Civic GX (CNG); FCX Clarity (Hydrogen Fuel Cell); Volkswagen Golf TDI (BioDiesel); Volkswagen Jetta (BioDiesel); Crane Carrier LET2 (CNG/Hydraulic Hybrid); Starcraft Allstar (CNG); XCaliber CNG66 Mower (CNG); Escape (Hybrid); Fusion (Hybrid); Global Electric Motorcars e4 (Electric); Ford F-Series (Biodiesel – B20); and Chevy Tahoe (Flex Fuel Vehicle)
The 2010 AFVI show concludes tomorrow.