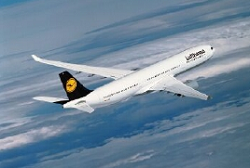 German airline Lufthansa is looking to start flying some of their jets on a mix of biofuel within the next couple of years.
This story from Reuters says it's a move to save money and cut greenhouse gas emissions:
Lufthansa rival KLM, part of Franco-Dutch Air France, last year became the first airline to test biofuel in a passenger airplane, filling one of four engines on a Boeing 747 with biofuel for a 1.5 hour test flight.
The carrier has said it aims to make commercial flights which use biofuel from 2011.
U.S.-based Continental Airlines, the U.S. airline that is set to create the world's largest carrier by merging with United Airlines parent UAL, had already used a mix of biologically derived fuel and jet fuel on a test flight.
[Lufthansa chief executive Wolfgang] Mayrhuber said Lufthansa had no plans to run individual test flights at this point. Instead, the carrier would wait until it could start using biofuel regularly on some routes to gather reliable data over a longer period of time.
In the long run, the use of biofuel is expected to save airlines money.
"First, we are hoping to get some resource security, and second, we hope that we will have some advantages in our costs for emissions trading," Mayrhuber said.
Lufthansa estimates that it could spend between $200-470 million a year in European Union Emissions Trading System (ETS) credits they will have to pay starting in 2012. The airline will have to buy fewer credits by using the biofuels.