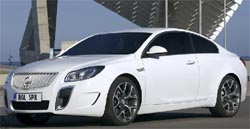 The 2011 Buick Regals will soon join the line as being E85 compatible. Starting in the fall months, Buick retailers will have on their lots the Regal and the Lucerne as being able to use the clean burning product.
According to Autoblog.com, the E85 capable 2.0-liter direct injected turbo four will begin arriving on lots in late August, along with the 2.4-liter. The turbo will be GM's first production E85-capable turbocharged and direct injected engine. The engine was originally developed for the new Saab 9-5, which rides on the same Epsilon II platform as the Regal, and GM decided to install it in the U.S.-spec Buick as well. The new Regal has been available in China since late 2008.
According Jim Federico, vehicle line executive for the global midsize platform, combining direct injection and turbocharging will allow the new engine to get much closer to the volumetric fuel efficiency of gasoline while running on ethanol. Until now, normally aspirated flex-fuel engines typically have gotten about 15 percent worse fuel efficiency on ethanol. The Regal engine should cut that deficit to the mid-single digits and future versions should be just about even.
General Motors now offers a large selection of E85 compatible vehicles for purchase including the Chevrolet HHR, Malibu, Taho, Avalanche, Express, Impala and Suburban along with the GMC Yukon, Sierra, and Savana among others.