A subsidiary of garbage giant Waste Management is buying a public utility's waste-to-energy facility.
Wheelabrator Technologies Inc. has acquired the Southeastern Public Service Authority's Refuse Derived Fuel (RDF) plant and adjacent waste-to-energy facility in Portsmouth, Virginia for $150 million: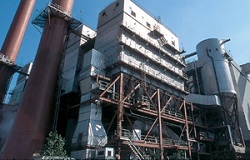 The purchase concludes a lengthy process that commenced more than two years ago when SPSA began consideration of a proposal to sell the two plants in order to reduce debt and operating costs and draw on the expertise of a private vendor. Three other companies submitted competing bids. After narrowing the candidates to two, the Authority chose Wheelabrator on November 17, 2009. A newly constituted SPSA Board, which took office January 1, 2010 as a result of a change in state law, continued the sale process, ending with the Board votes on April 28.
SPSA will use the $150-million from the sale to pay down debt to the Virginia Resource Authority (VRA) and other lending institutions, and repay money owed to the City of Virginia Beach.
The 164 SPSA employees will now become Wheelabrator employees. The waste-to-energy facilities turn up to 2,000 tons a day of municipal solid waste (MSW) into 600,000 pounds of steam per hour and 60-megawatts of electricity. The steam will go to the Norfolk Naval Shipyard repair operations, with the electricity going into the grid.