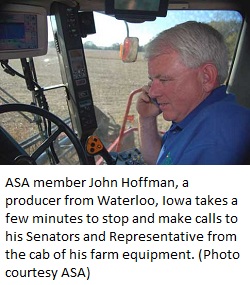 While soybean farmers are getting their crops in the ground, their lobbying group is telling them to plant something else: the seed of renewing the federal biodiesel tax incentive with their U.S. Congressmen.
The American Soybean Association wants farmers to make the calls right from their offices: the cab of their tractors:
"Call your Senators and Representative and ask them to contact their respective Leadership to stress that the biodiesel tax incentive extension must be enacted before the Memorial Day recess," said ASA President Rob Joslin, a soybean producer from Sidney, Ohio. "We realize that at this time of year many soybean farmers are spending long hours in their tractor cab planting crops, and this is a perfect opportunity to stop and take a few minutes at the end of a field to call your elected representatives in Washington about the urgent need to extend the biodiesel tax incentive."
All soybean farmers are urged to participate in ASA's C.A.B. Campaign: Call About Biodiesel. Contact the U.S. Capitol Switchboard at (202) 224-3121 and ask to speak with your Senators' and Representative's offices.
The ASA is offering some important pointers to those sending the messages:
Farmers should personalize and explain the impact the credit expiration is having on you, your business, and your state:
# Biodiesel production has stopped and Green Jobs are being lost.
# The resulting negative impact on State and Local Economic Development.
# The detrimental effect expiration of the credit is having on Your Bottom Line (estimated impact of $0.25 per bushel).
# From a Nationwide standpoint, Green Job creation, Energy Security and Environmental Benefits associated with domestic biodiesel production is being lost.
# Biodiesel reduces our Dependence on Foreign Oil.
# The Biodiesel Industry creates Green Jobs and Makes a Positive Contribution to the Economy.
# Biodiesel is Good for the Environment.
ASA officials say the few minutes farmers spend with their representatives might make or break the renewal of the $1-a-gallon credit.