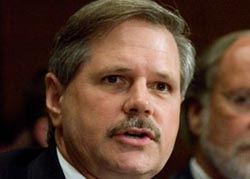 According to Agweek, North Dakota's Gov. John Hoeven along with the North Dakota Ethanol Council have announced the establishment of a new program that will fund North Dakota Ethanol Council's marketing activities by dedicating a share of the industry's production profits to promotion of ethanol. The check-off program will dedicate 3/100ths of one cent per gallon of ethanol produced and sold to these efforts.
"North Dakota's agricultural economy and rural communities have directly benefited from the growth of the ethanol industry in our state," Hoeven said. "Ethanol creates jobs and boosts income for our farmers."
The North Dakota Ethanol Council includes representatives from all of the state's major ethanol producers, including ADM Corn Processing, Walhalla; Blue Flint Ethanol, Underwood; Hankinson Renewable Energy, Hankinson; Red Trail Energy, LLC, Richardton; and Tharaldson Ethanol Plant, Casselton.
"As an industry, we are excited to have the Council established and staff hired," says Jeff Zueger, NDEC chairman and Blue Flint Ethanol general manager. "These steps allow us to move forward with a coordinated effort to expand the ethanol industry in North Dakota."