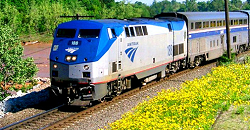 America's passenger train line is now running on America's fuel – biodiesel.
The Ft. Worth Star-Telegram reports Amtrak's Heartland Flyer that runs in Oklahoma and Texas is now being fueled with a 20 percent biodiesel blend made from beef fat:
"I don't smell any french fries yet," Amtrak assistant superintendent Joy Smith quipped as the Heartland Flyer arrived from Oklahoma City.
Although some forms of biodiesel are fashioned from restaurant grease — and yes, they may even smell like french fries — Amtrak is using a fuel produced from the remains of cattle raised near Fort Worth.
And no, the train station didn't smell like a smoked steak Tuesday.
Armed with a $274,000 federal grant, Amtrak plans to operate the Heartland Flyer for 12 months solely on the biodiesel blend, then carefully monitor how the engines respond.
Emissions will also be measured to determine the environmental benefits. The Heartland Flyer burns about 100,000 gallons of diesel per year, said Roy Deitchman, Amtrak vice president of environmental health and safety. It makes a daily round trip of about 400 miles between Fort Worth and Oklahoma City.
Hopes are that one day all of Amtrak's trains will run entirely on biodiesel.