America's ethanol producers have launched a new effort to educate the public about America's fuel: ethanol.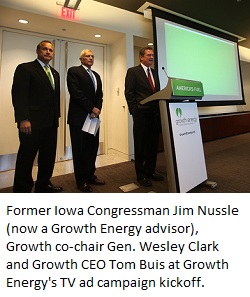 CEO of Growth Energy Tom Buis recently was joined by Gen. Wesley Clark, co-chair of Growth, and former Iowa Congressman Jim Nussle, an advisor for Growth, in an announcement launching a $2.5 million TV advertising campaign on major cable television networks, including Fox News, MSNBC, CNBC, and CNN, that seeks to get the American public up-to-speed on ethanol, featuring the green facts of the fuel and dispelling the rumors around it.
In this edition of the Domestic Fuel Cast, you'll hear some of that news conference and the arguments that should lay to rest any misconceptions about ethanol. Just click on the player below.