The ethanol tariff debate continues as today, Marcos Jink, President and CEO of the Brazilian Sugarcane Industry Association (UNICA) told World Trade Organization's Director-General, Pascal Lamy, during a presentation that, "It makes no sense for countries to adopt ambitious policies to reduce greenhouse gas (GHG) emissions, while continuing to apply high tariffs on clean technologies that can be instrumental to achieve goals and allowing fossil fuels to be traded freely."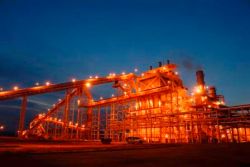 This presentation was given as part of Lamy's visit to Sao Martinho, a sugar, ethanol and bioelectricity plant located in Pradopolis, a town located in the center of Brazil's sugarcane growing region. The Sao Martinho plant processed 8.1 million tons of sugarcane in the 2009/2010 harvest season, making it the largest among Brazil's 430 cane processing mills and largest in the world. Earlier this month, this year's sugarcane harvest began.
"It is essential that WTO member countries reconcile their trade and climate change policies, and that we progress toward the inclusion of ethanol in the list of environmental goods for which import tariffs must be abolished," said Jank, who argues that ethanol should be recognized as a global energy commodity. He calls for the customs classification for ethanol to be changed to reflect its role as a low-carbon energy solution.
Jank noted that biofuels are not the only clean-technology that may be affected by the move to curb climate change and believes that WTO's rules may be challenged. He cautioned that without measurable rules based on sound science, the door will be open to creating new trade barriers. He concluded that the greatest risk is the development of implementation mechanisms to prove compliance with sustainability criteria and WTO rules, such as the Directive on Renewable Energy Sources, must be assessed carefully.