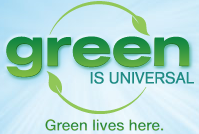 This coming Thursday marks the 40th anniversary of Earth Day, and media giant NBC Universal is taking the whole week to mark the occasion. Part of this sixth green-themed Earth Week by the network includes biodiesel as part of the effort.

This NBC press release has details:
"NBC Universal's green-themed weeks continue to drive consumer awareness around the environment," said Beth Colleton, Vice President, Green is Universal. "On the 40th anniversary of Earth Day, we are particularly honored to continue contributing to the green conversation, helping to activate both consumers and employees around this important issue."
Focusing on green behind the cameras, NBCU is making strides on green production efforts. Industry-leading green production guides for both our television and film production units are available to the entire industry, and crews have put knowledge into action on set. A recent example was on the set of "It's Complicated," starring Meryl Streep, Steve Martin and Alec Baldwin. The production used biodiesel generators and vehicles, conducted on-set recycling, donated food daily to a local soup kitchen, and diverted over a ton of potential waste away from a landfill. The film's DVD, due out on April 27th, uses packaging with 20% less plastic and 100% recycled paper inserts.
More information is available on NBC's "Green is Universal" Web site.