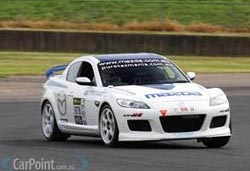 Mazda Australia will use E85 to power its turbo rotary Mazda RX-8 SP at the upcoming Targa Tasmania rally. According to carsales.com, the organizing team of Targa Tasmaia, is encouraging competitors to drive hybrids or cars running on low-carbon-content fuels. Mazda Motorsport has opted to run its turbo rotary rally car on the low-emitting E85 blend fuel. Already used in V8 Supercars, Targa Tasmania is the second major motorsport event in Australia to introduce this renewable fuel with event organisers committed to delivering zero net emissions by the 20th Anniversary event next year.
But, it doesn't look as though Mazda is going to offer E85 compatible vehicles on a global scale anytime in the very near future. "I guess it's one of those infrastructure things we have to embrace," noted Mazda Austrailia MD Doug Dickson. "Ethanol as a fuel has probably lost a bit of prominence recently; it's probably something that needs to be brought back to the forefront, but then the world tends to be concentrating on electric, where there's probably far higher costs of infrastructure development than there is for E85.
Targa Tasmania will be held from April 27 – May 3. Driving the E85-powered Mazda RX-8 SP is South Australian Steve Glenney.