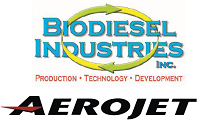 On the heels of the U.S. Navy announcing closer cooperation with the USDA in the use of biofuels, an advanced biodiesel production system has been delivered to a Navy installation in California.
This press release from Biodiesel Industries says Naval Base Ventura County has received the first ARIES biodiesel production system … a joint effort by the Navy, Biodiesel Industries and Aerojet to produce a sustainable and reliable form of biodiesel from local resources:
The new system, named ARIES (Automated Real-time, Remote, Integrated Energy System), is a highly automated, transportable biodiesel production unit that can be controlled from a remote location. These features ensure reliable process control and optimal production yields in a sustainable system that can be readily and widely deployed.
Russell Teall, President and Founder of Biodiesel Industries explained, "Creating truly sustainable systems requires a thorough understanding of every aspect of biodieselproduction, from feedstocks to finished products. The Integrated Energy System incorporated into ARIES will eventually allow us to generate our own heat and power,and to feed the surplus into a local micro-grid. These Energy Islands will support the local community with renewable and sustainable fuel, electricity and heat."
The release goes on to say the beauty of ARIES is its flexibility to use a variety local, non-food feedstocks and its ability to remotely operate hundreds of scalable facilities that can produce as much as 3-10 million gallons a year. In addition, a rugged 100,000 Mini-MPU has been developed for use by the military. And that makes ARIES deployable around the world.