Today, Christianson & Associates, PLLP (C&A) has released a new in-depth report that looks into ethanol plant efficiency and financial viability. The Biofuels Benchmarking Annual Report is in its 7th year and analyzed the operational and financial performance of more than 50 ethanol plants along five major "bench" areas: overall ethanol industry analysis, regional ethanol plant analysis, production capacity analysis, plant production efficiency analysis and balance sheet analysis.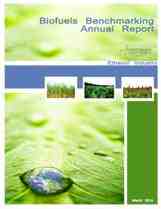 Brian Jennings, the Executive Vice President for the American Coalition for Ethanol (ACE) notes that this report is yet more proof that ethanol is a sustainable way for our country to produce fuel.
"This report proves that ethanol producers are getting more efficient every day, indicating that ethanol facilities producing WDGS use only about 19,000 BTU's of energy to make just one gallon of ethanol. As we continue to point out that ethanol is getting more efficient as oil is getting less sustainable, this is the sort of data that helps reinforce and prove our point," said Jennings.
C&A has the most robust benchmarking programs available for the ethanol industry. The program enables participants to measure themselves in over 90 financial and operational factors on a quarterly basis and compare their results to others in the industry. Ultimately the program helps plants identify their strengths and weaknesses as a tool to improve their financial outlook.
"Not only is this annual report a valuable tool for ethanol producers, it is also a helpful resource for public and private researchers and analysts who are looking for unbiased, independent data and information to assist them in their own analytical efforts," said Geoff Cooper, Vice President Research for the Renewable Fuels Association.
The Biofuels Benchmarking Report is available for free to all current Christianson & Associates Biofuels Benchmarking participants. In addition, members of the media, academia and current legislative and executive branch members may also receive a free copy. Current RFA and ACE members will receive the report for a discounted amount of $250.00; all others can purchase the report for $500.00. Click here to order your copy.
Also released this week is the 2009 Annual Labor Survey. This report contains the most comprehensive ethanol industry benefits and wage information available to participating plants and is an essential tool for plant managers to use for employee reviews, hiring, retention and budgeting. Informational reports contained within the report include industry benefits, base wage, total wage, overtime, industry turnover, and tenure analysis.
C&A's 2010 Annual Biofuels Financial Conference is being held in Minneapolis, Minn. on June 23-24, 2010. For chief financial officers, controllers, accounting staff and board members who are interested in learning about "What is Next?" for the ethanol industry this is a conference that you cannot miss. Eight CPE credits are available.