Federal ag department officials seem to be rooting for renewal of the $1-a-gallon biodiesel tax incentive to finally pass Congress … but no one from USDA is pressuring lawmakers to get the deal done.
During yesterday's event in Hawaii, where the U.S. Navy and USDA pledged to work together to produce more biofuels for the service's renewable energy goals, reporters were able to quiz Ag's Deputy Secretary Kathleen Merrigan if the Obama Administration was pressuring Congress on the incentive's renewal. But Hoosier Ag Today reports that her answer was less than inspiring for a biodiesel industry going further under every day without the tax break: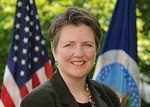 "It's something Tom Vilsack has spoken publicly about, so we are clearly in support of the kind of tax support that the industry needs at this point. But we're working with Congress on a number of fronts. We were given a wonderful suite of energy programs as a part of the 2008 farm bill. We are working diligently to get those all up and running, notices and rulemakings that we have to do in this innovative space where there's not a lot of history of work to build upon. So we are working very closely with our colleagues in Congress on a number of fronts."
Merrigan wouldn't offer any guesses when Congress might finally reconcile the two different versions of the American Workers, State and Business Relief Act which includes the House bill to extend the credit through the end of 2010.