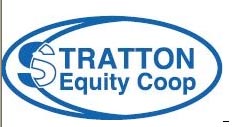 The opening of Colorado's first ethanol blender pump will be celebrated with a grand opening event from 10 a.m. to noon on Thursday, April 8. E20, E40, and E85 will be offered at the Stratton Equity Coop station at 515 Lincoln Street in Burlington, Colorado.
The blended ethanol fuels at the station will sell 99-cents a gallon to drivers of flexible fuel vehicles. "It says a lot that the first blender pump is opening in Burlington and in the heart of corn country," said Rick Palkowitsh, who farms near the community. "As a farmer, I am excited we will be the first city in Colorado offering new technology to encourage the use of renewable fuels by motorists. This blender pump will give consumers more choices as to the type of fuel they choose." Palkowitsh also chairs Colorado Corn's Market Development Action Team.
This event is being sponsored by Stratton Equity Coop, Little John's Equipment Company, Growth Energy and Colorado Corn. Currently, there are more than 100 E85 pumps in Colorado.