Iowa is getting to be known as a center for wind energy, including production of the green power and production of the tools needed to generate that power. So, it's no wonder that the state is the host of a pair of wind energy conferences this week.

KCCI-TV in Des Moines says the gatherings hosted by the Iowa Alliance for Wind Innovation and Novel Development and the Iowa Wind Energy Association have been taking place in Ames: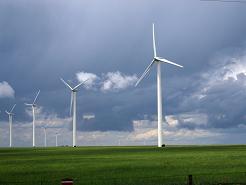 Many of the experts said they consider Iowa to be a leader in wind energy. They said it's more than just the growth of wind farms in the state; it's also the state's investment in incentives to draw green companies here.
"You lead manufacturing in the U.S. in wind. You lead more wind manufacturing jobs than any other state," said [Denise Bode, CEO of the American Wind Energy Association].
Experts said that being a leader brings with it the challenge of maintaining that position and continuing to grow. One of the biggest challenges is how to move the power from wind farms to places beyond Iowa's borders.
"I mean we're lucky here in Iowa that we do have some transmission availability and we do have wind availability, but there's a lot of states that may have wind but not transmission," said Bob Loyd, the chief operating manager and plant manager at Clipper Windpower in Cedar Rapids.
Some of the challenges that wind energy faces is transmitting the power across state boundaries, which would take a national wind energy policy, and getting more universities to develop renewable energy programs.