It looks like the EPA has been busy approving propane fueled vehicles. Today, CleanFUEL USA has announced that the EPA has certified the industry's first liquid propane engine built on a General Motors 6.0L chassis. Propane has been gaining momentum as a fuel of choice for fleet vehicles and CleanFUEL's liquid propane injection systems (LPI) provides a high-performance, fuel efficient alternative to gasoline.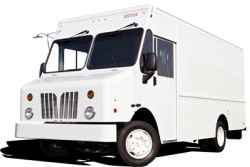 Fleet vehicle owners are making their choices for alternatively powered vehicles. Sales for cars including plug-in hybrid electric, mild hybrid 1, natural gas and propane (also known as Autogas and liquefied petroleum gas/LPG), and fuel cell powered vehicles are expected to increase to 49 percent by 2035, up 36 percent from 2008 based on the Annual Energy Outlook 2010 report released by the U.S Energy Information Administration (EIA). About 13 million cars and trucks worldwide are powered by propane today and they are running on fuel that averages 40-50 percent less than gasoline/diesel per gallon according the CleanFUEL.
CleanFUEL's advanced propane engine utilizes the patented Icom JTG Technology and System manufactured by Icom North America and offers the same horsepower, torque and performance as gasoline-powered engines. Yet it produces 87 percent less hydrocarbons and 50 percent fewer toxins than gasoline. CleanFUEL's system performed 25 percent better than comparable gasoline and diesel engines tested against current EPA standards, also reporting zero in particulate matter emissions rate. This makes propane fuel extremely attractive as the EPA and CARB continue to tighten the reign on vehicle emissions.