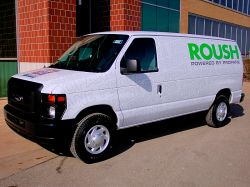 ROUSH has just gotten word today that the EPA has approved their 2010 E-150, E-250, and E-350 propane fuel conversion system for meeting their Federal emission regulatory requirements. The propane fueled vans became available in December of 2009. Early last month, ROUSH received word that the California Air Resources Board (CARB) had approved the propane fuel conversion system for ROUSH's F-250 and F-350 trucks and they are currently working with them for approval on their E-series of vehicles.
This decision is important because it now means that the trucks can be sold anywhere in the country with the exception of California and those states which have adopted the CARB certification standards. CARB certification is currently pending, as is EPA approval for other additional model year vans. Production and shipment of conversion systems and of ROUSH-built vehicles can begin immediately.
The EPA certification covers the 2010 model year Ford E-150, E-250, and E-350 cargo vans, wagons, and certain cutaway configurations with a GVWR of up to 10,000 pounds (the Heavy Duty Vehicle 1 classification), utilizing the Ford 5.4L, 2V V-8 engine. Vehicles can be ordered with the conversion performed at the ROUSH vehicle assembly facility in Livonia, Mich., or a conversion system can be ordered and installed by a qualified up fitter on an existing vehicle meeting the appropriate configuration standards.
The purchase of propane-powered vehicles is eligible for a variety of federal, state, and municipal tax credits or rebates. The Qualified Alternative Fuel Motor Vehicle (QAFMV) federal tax credit is available to be applied toward the purchase of vehicles that have been repowered to operate on an alternative fuel. The ROUSH propane powered E-150, E-250, and E-350 is unique as it was calibrated and certified to stricter emissions standards than the EPA mandated for vehicles of its class. That means the QAFMV tax credit can cover 80 percent of the incremental cost to convert certain models, up to an $8,000 cap for qualified buyers.