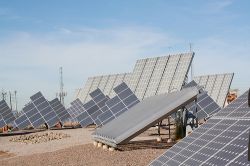 U.S. Rep. Gabrielle Giffords (D-Ariz) has announced the introduction of legislation that would make it more affordable for schools to install solar power systems. The Solar Schools Act was announced during a day-long tour of Tuscon, Arizona that highlighted the state's burgeoning solar industry.
"School buildings are used most heavily during the day, during the same hours that solar energy generation is highest," Giffords said. "Making it more cost-effective for schools to install solar-generating systems will lessen our dependence on foreign oil and save money for cash-strapped schools."
The Arizona Leadership Solar Bus Tour was hosted by Giffords along with the Arizona Economic Resource Organization, the University of Arizona and SCF Arizona. Giffords, who is a member of the House Science and Technology Committee, is one of the leading proponents of solar energy and has installed solar panels on her own home. Last year, she introduced the Solar Technology Roadmap Act which was approved by a bipartisan majority in the House last October.
"Tucson is rapidly becoming a national leader in solar-related businesses and in the installation of solar panels," said Giffords. "The border area of southern Arizona is one of the best areas in the world for the generation of solar power, with more than 300 days of sunshine every year."
The new Act would combine two solar development approaches: financing a solar installation project through tax exempt bonds and the ability to claim the investment tax credit – making solar energy more affordable. Ultimately the Solar Schools Act would enable schools to use the proceeds from tax-exempt bonds to enter into pre-paid contract for renewable energy.