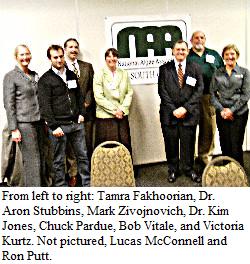 Got nice note from our friend, Tamra Fakhoorian with the National Algae Association's Mid-South Chapter, who just recently completed a workshop in Huntsville, Alabama, entitled, "Algae: Mining Wastewater for Nutrients, Fuel, and Fertilizer."
She tells us they had a good mix of attendees from all over the country who heard presentations from some of the nation's leading experts on algae and its impact on the bioenergy field:
In addition, attendees learned of algae's tremendous potential as a cost-effective bioremediation tool for wastewater streams, effecting a more stable and healthy ecosystem. Two such algae bioremediation systems were well represented by Mark Zivojnovich's presentation on HydroMentia's Algal Turf Scrubber and Lucas McConnell of Renewergy unveiling his company's vertical algae system for nutrient recovery. Open pond scenarios for wastewater nutrient mining were described by Dr. Kimberly Jones of Alganomics and Dr. Aron Stubbins of Virginia Coastal Energy Research Consortium.
"Our goals for this workshop were to first raise awareness of the algae/wastewater connection for a wide variety of valued end products and using algae for bioremediation. Next, we focused on the many sources of point and non-point sources of wastewater and discussed algal growth system applications. Third, we placed emphasis on why we must address our nation's finite phosphate supply and how algae is perfectly equipped to reclaim it from wastewater streams," said workshop coordinator, Tamra Fakhoorian.
Attendees had comments, such as "Great event! Each presenter complimented the other with valuable information. Great question and answer session at end of day to touch on subjects not mentioned by presenters."
Tamra promises more events and workshops in the future. If you're interested, just contact Tamra at TamraF.NAA@wk.net