Brazil's 2010/2011 harvest officially begins today, and it is predicted that there will be a 10 percent increase in sugarcane production this year, as compared to last year. This according to the Brazilian Sugarcane Industry Association (UNICA) who is estimating that the sugarcane harvest should reach 595.89 million tons, compared to 541.50 million tons last season. Final 2009/10 production numbers are expected in the next few weeks as the harvest season officially came to a close yesterday.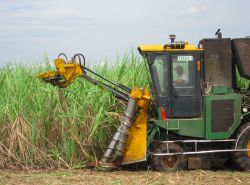 According to UNICA's Technical Director, Antonio de Padua Rodrigues, the increased harvest forecast has to be carefully evaluated. "The cane available for ethanol and sugar production in the 2010/11 harvest is virtually the same as in the 2009/10 harvest, which was severely hampered by unfavorable weather conditions. In other words, in terms of crushing, the new harvest should be what the industry was simply unable to complete in the previous harvest."
According to UNICA, the data collected via satellite images shows no discernible expansion of the area dedicated to growing sugarcane. The expected increase is actually due to a large volume of "bisada" cane, sugarcane that was not processed in the last harvest and has now been growing for two years. Another factor for the larger production is attributed to the gradual increase in production at new mills, especially in the states of Mato Grosso do Sul Goias and Minas Gerais.
Of the total cane volume expected for the 2010/11 harvest, UNICA projects that 43.29 percent will be destined for the production of sugar, and 56.71 percent will be used for ethanol production. Of the ethanol production, estimated to be 27.39 billion liters, 20.14 billion are expected to be produced as hydrous ethanol.
Last season's reduced harvest caused the amount of ethanol mandated by the country to be lowered. If this season's harvest goes as predicted, it is anticipated that the ethanol blend levels will be increased to former levels.