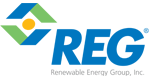 Iowa-based Renewable Energy Group has had to lay off 45 percent of its workforce in the company's home state, due to the failure of Congress to renew the $1-a-gallon federal biodiesel tax credit.
REG is expected to meet with two key members of Congress, Senator Dick Durbin (D-Illinois) and Rep. Steve King (R-Iowa), at REG facilities in each of the congressmen's home states.
In addition, REG Chairman and CEO, Jeff Stroburg, sent U.S. House Ways & Mean Committee chairman Sander Levin a letter pleading his case for reinstatement of the incentive:
The reinstatement and retroactivity of the biodiesel tax credit is critical to putting these employees back to work.
The biodiesel tax credit is currently within the Extenders Package (H.R. 4213) which is part of the second jobs bill, the American Workers, State, and Business Relief Act. This bill was sent passed by the Senate March 10th and is currently awaiting action by the U.S. House of Representatives Ways & Means committee.
We know the countless issues you face each day each deserve your attention and I know you work tirelessly to address each one; however, ours is becoming increasingly critical for our survival.
The earliest Congress can take up the issue would be the week of April 12th, when it returns from spring break. Meanwhile, those REG biodiesel workers … and approximately 23,000 others across the country … are on a break from drawing a paycheck.
Meanwhile, REG has started a Facebook fan page to urge Congress to reinstate the biodiesel tax credit: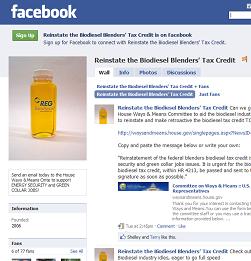 Can we get 500 emails into the House Ways & Means Committee to aid the biodiesel industry? Tell our legislators to reinstate and make retroactive the biodiesel tax credit TODAY!
http://waysandmeans.house.gov/singlepages.aspx?NewsID=10470
Copy and paste the message below or write your own:
"Reinstatement of the federal blenders biodiesel tax credit is a national energy security and green collar jobs issues. It is urgent for the biodiesel industry that the biodiesel tax credit, within HR 4213, be passed and sent to the President's desk for signature as soon as possible."