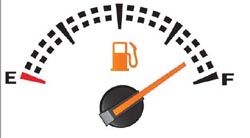 The the U.S. Department of Transportation's National Highway Traffic Safety Administration and the U.S. Environmental Protection Agency and unveiled new fuel economy rules today that will begin phasing in in 2012. According to EPA, the rules could potentially save the average buyer of a 2016 model year car $3,000 over the life of the vehicle and, nationally, will conserve about 1.8 billion barrels of oil and reduce nearly a billion tons of greenhouse gas emissions over the lives of the vehicles covered.
"This is a significant step towards cleaner air and energy efficiency, and an important example of how our economic and environmental priorities go hand-in-hand," said EPA Administrator Lisa P. Jackson. "By working together with industry and capitalizing on our capacity for innovation, we've developed a clean cars program that is a win for automakers and drivers, a win for innovators and entrepreneurs, and a win for our planet."
Automobile manufacturers are expected to meet these standards by more widespread adoption of conventional technologies that are already in commercial use, such as more efficient engines, transmissions, tires, aerodynamics, and materials, as well as improvements in air conditioning systems. EPA and NHTSA also expect that some manufacturers may choose to pursue more advanced fuel-saving technologies like hybrid vehicles, clean diesel engines, plug-in hybrid electric vehicles, and electric vehicles. The new regulation allows automakers to get credits for building flexiblie fuel vehicles until 2015, but after that, it must show the alternative fuel is being used to get credits.
"America needs a roadmap to reduced dependence on foreign oil and greenhouse gases, and only the federal government can play this role," The Alliance of Automobile Manufacturers President and CEO Dave McCurdy said, "The national program announced today makes sense for consumers, for government policymakers and for automakers."
NHTSA predicts that passenger cars will have to average 33.3 mpg in 2012, a figure that rises to 37.8 mpg in 2016, light trucks, including SUVS, pickups and vans, will be required to average 25.4 mpg in 2012 and 28.8 mpg by 2016.