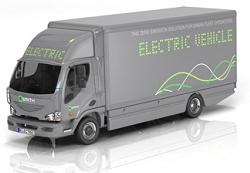 The maker of electric trucks that can run all day on a single charge is getting some help to expand its Kansas City assembly facility.
The Kansas City Star reports that the $22 million federal Department of Energy grant to Smith Electric Vehicles is in addition to $10 million the DOE gave the company last August:
Kevin Kelly, chief financial officer for Smith Electric, said the Kansas City facility has 50 employees assembling two trucks a week. By the end of the year, it hopes to be assembling 25 trucks a week and to have more than 100 employees, including workers in research and development.
"We remain confident how deep the market is in this area."
The money will help pay for vehicle development and establish a demonstration program to show how the trucks perform in different applications. Customers will be able to get subsidies to participate in the demonstration program.
Some of Smith's customers include Frito-Lay, Staples and Kansas City Power & Light.