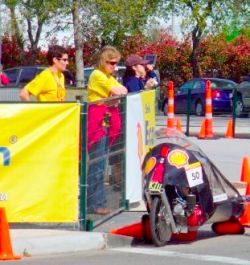 Several high school students from Durand High School in Wisconsin, took first place in the national Shell Eco-Marathon, with their ethanol entry. The challenge was to build a car with the best fuel economy and the Wisconsin team was the only team to enter a vehicle fueled by ethanol. After a snafu with another vehicle that ran into their car, they were able to achieve 345 miles per gallon using ethanol. Their original goal was to go more than 700 mpg which was squashed after their brakes and alignment on their car was thrown off due to the crash.
"There's a track we have to do 10 laps on and that's a total of 6 miles. They measured the fuel before the event and after," student Ted Wayne said in an interview with WEAU-TV.
The students competed against other high school teams as well as college teams and many of these groups has a larger budget. however, it didn't stop these dedicated students from winning. The three students who traveled to the event in Texas all plan to attend UW-Stout next year and are already planning on starting a club that will compete in future challenges. Ultimately, the team said their goal is to beat Purdue.