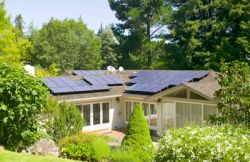 A new fund has been created for commercial and residential solar projects that will begin in 2010. SolarCity, a company that not only offers solar power system design and installation, but financing as well, has created a new $90 million fund in partnership with U.S. Bancorp Community Development Corporation (USBCDC) to finance new projects in the U.S. SolarCity will use the new fund to finance its SolarLease and power purchase agreement (PPA) offerings as it continues to expand to new states.
"We started this company with the simple belief that if we made solar power as affordable and accessible as other energy sources, we could make it a mainstream source of electricity," said Lyndon Rive, SolarCity's CEO. "Partners like U.S. Bank are making it possible for SolarCity to keep pace with demand, and helping us toward our ultimate goal of making an affordable clean power option available nationwide."
According to SolarCity, their financing options are advantageous because they allow for customers to immediately save money when installing solar because homeowners are not required to put any money down. In addition, homeowners save more on their monthly electricity bills than they pay for the solar panels each month. A project that includes design, installation, insurance, repairs, production monitoring and guaranteed performance can cost as little as $30 per month in some areas. This addresses one of the "return-on-investment" criticisms lobbied to deter the viability of solar energy.
The company now serves five states including Colorado, Texas, Arizona, California, and Oregon.