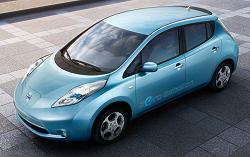 In the race for a profitable electric car, Nissan might have just raced out to a big lead. The Japanese car maker has announced that its Leaf electric car will sell for $32,780 … well below GM's Chevy Volt's sticker price of $40,000. When you include the $7,500 federal tax credit (which the Volt would also be eligible for), that gets the price down to just more than $25,000.

This story from CNNMoney.com says Nissan plans to sell the Leaf starting in December … just a month after the Volt hits showroom floors:
By keeping the sticker price low, the Leaf will be profitable for Nissan, said Mark Perry, Nissan's director of product planning. That means customers should expect more variants of the Leaf in coming years, he added.
Nissan has already said that there will be a luxury Infiniti version of the car.
Industry analysts have frequently said that electric cars would not be profitable for years to come because of the high costs associated with the vehicles batteries.
"We've been working in lithium ion batteries for 17 years," Perry said. "So all that advanced research and engineering work we've [already] paid for."
The article goes on to say that some states have their own electric vehicle tax credits, including California, which offers $5,000 … bringing the price down to about $20,000. In addition, there are some credits that help pay for the installation of home charging stations.