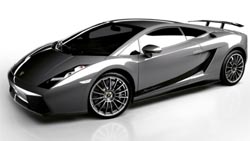 According to Car and Driver magazine, Lamborghini will soon be introducing a new generation of vehicle. This new generation Lamborghini will end the production of having a manual transmission and will be E85 compatible.
Maurizio Reggiani, the director of research and development at Lamborghini, says in an interview with the magazine that they will likely follow Ferrari in ending their manual transmission. He stated that manual transmissions are fitted to less than five percent of the firm's cars. Other technologies to be implemented are systems like stop/start capability to thrift fuel in urban settings, cylinder deactivation – the V10 and V12 will then operate on half as many cylinders, E85 compatibility, and even a mild-hybrid solution.
Lamborghini was founded in 1963 by manufacturing magnate Ferruccio Lamborghini. It has changed ownership numerous times since, most recently becoming a subsidiary of German car manufacturer AUDI AG (itself a subsidiary of the Volkswagen Group).