Looking for a unique green home? Look no further. The University of Minnesota (U of M), who built an all-solar home for submission in the U.S. Department of Energy (DOE) 2009 Solar Decathlon, is up for sale. The 550-square-foot-home house took fifth place out of 20 international entries in October's Solar Decathlon. Interested buyers are required to submit a purchase proposal by April 12, 2010.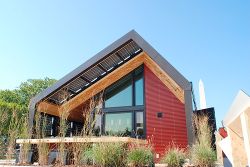 The home has been dubbed the ICON Solar House due to its classic gabled roof design, and was designed by a ensemble of professionals and students in U of M's Institute of Technology, College of Design and College of Continuing Education. The home placed well is several categories including first place for engineering, first in lighting design and third in appliances and fifth place in market viability.
This green baby won't come cheap, however. The minimum bid is $200,000 and the appraised value is listed over $550,000. As part of your purchase, you will receive $20,000 consulting and assistance allowance from the university on assembling the ICON House on site. In other words, you will be able to select where to "build" your new home.
You can take a virtual tour of the solar home here.