A pair of Ohio politicians is looking to advance offshore wind energy projects in Lake Erie.
This press release from Gov. Ted Strickland says the governor was joined by U.S. Sen. Sherrod Brown(D-OH) and Cleveland leaders to unveil Brown's legislation to advance offshore wind turbines in freshwater bodies like Lake Erie and to hear Strickland's update on state efforts to advance wind energy: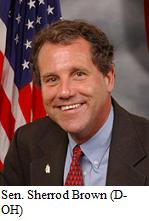 "Lake Erie is ready to be home to the first offshore wind turbines in fresh water," Brown said. "The Lake is shallow enough to support offshore wind turbines and is also surrounded on land by Ohio's rich industrial base. With the right priorities in Washington, Columbus, and Cuyahoga County, we will not only make this project a reality, but we'll also revitalize Ohio's manufacturing base and create new jobs. Wind energy will not only lower costs and reduce our dependence on foreign oil, but will also create new demand for components produced by Ohio?s supply chain."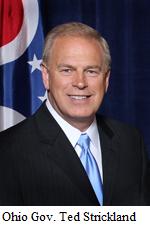 "Ohio's greatest potential for creating wind energy is offshore in Lake Erie. Offshore wind, in particular, offers opportunities for our manufacturing sector and for Ohio shipyards. Ohio can build the installation vessels needed in all the Great Lakes; Ohio can build the towers; Ohio can build the turbines and the blades; Ohio can build all the component parts," Strickland said. "Senator Brown's legislation will strengthen the federal government's partnership with Great Lakes states as we make sure the wind energy industry grows in Ohio. This legislation will also provide grants to our universities that are already focusing innovative research on solving the unique challenges of offshore wind in fresh water."
Brown's bill, the Program for Offshore Wind Energy Research and Development (POWERED) Act of 2010, would encourage research and require the Department of Energy (DOE) to develop a comprehensive plan for offshore wind. Regional efforts include the four-year-old Great Lakes Energy Development Task Force looking at the potential for wind energy in Lake Erie.