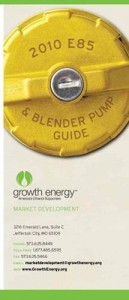 Growth Energy has introduced their new 2010 E85/blender pump brochure. The six panel brochure includes frequently asked questions on E85, blender pumps and flexible fuel vehicles (FFVs). The entire inside of the brochure includes a matrix-like listing of FFVs offered since 1995.
Although many newer model FFVs are labeled on the back of the vehicle, these brochures are the marketing tool Growth Energy recommends for a retailer to inform customers of which vehicles are E85 compatible. They assist with the problem of consumer "misfueling" at the pump. Currently there are over eight million FFVs on American roads. They include newer models by General Motors, Ford, Chrysler, Nissan, Toyota and Mercedes. Older models include Mazda and Isuzu.
To order the 2010 E85/blender pump brochure, click here. Growth Energy also offers various other items for ethanol fuel retailers, such stickers, banners, pump toppers and marquees. In addition, there's some just for fun stuff available on the website, including bumper stickers, key chains, hats and decals.