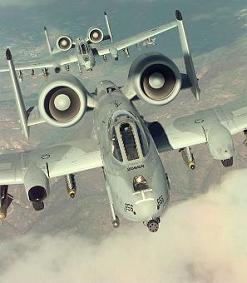 It's officially called the A-10 Thunderbolt II, but to the men and women who wear the blue of the U.S. Air Force, it is affectionately called the Warthog … and it's real beauty will come in its upcoming test of biomass-based jet fuel.
Air Force News Service says a test pilot will attempt to fly an A-10 on a blend of biomass-derived and conventional JP-8 jet fuel, the first flight of an aircraft powered solely on a biomass-derived jet fuel blend:
The biomass-derived fuel used for this event is referred to as hydrotreated renewable jet, or HRJ, and is part of a class of fuels derived from either plant oil or animal fat feedstocks. The feedstock source of the biomass powering the A-10 demonstration is camelina oil, a flowering plant in the same family as mustard, cabbage and broccoli, but not used as a food-source.
Biomass-derived fuels offer the potential to reduce greenhouse gas emissions. While additional testing will be conducted to explore the full extent of their benefits, test data show that particulate emissions are reduced during combustion of biomass-derived fuels.
This event marks the next phase in the Air Force's alternative aviation fuel program and represents a milestone in worldwide development of alternative aviation fuels, paving the way for future Air Force HRJ certification flight tests of the F-15 Eagle, F-22 Raptor and C-17 Globemaster III to begin this summer.
This flight is part of the Air Force's goal to get half of its domestic aviation fuel from an alternative fuel blend by 2016.