Three acres of farmland in northern Iowa could soon be home to a 3-million-gallon-a-year biodiesel plant.
The Mason City Globe Gazette reports that the Mt. Valley biodiesel refinery, using grease, soy, sunflower seeds in a closed-loop, emissions-free facility, will be the first of its kind for the Hawkeye State: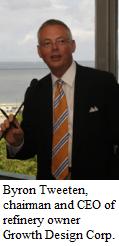 "The land here has always been very productive," [Byron] Tweeten, chairman and CEO of refinery owner Growth Design Corp., said Wednesday during an informational meeting for neighbors and potential investors at his home. "And why not use a small portion of it to build economic development in this area, create jobs, and do something great for the nation, called 'bring us to energy independence by using waste for renewable energy'?
"I think every citizen in this area would absolutely endorse what I just said as a really important idea," Tweeten said.
Groundbreaking on the $8.5 million project will be in May, contingent on completion of an environmental assessment by the U.S. Department of Agriculture.
Construction is expected to take about nine months.