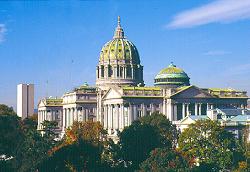 Pennsylvania residents might soon take the chill off their cold winter nights (and cool spring, summer and fall days and nights) with a dose of biodiesel.
This post from Heatingoil.com says a new bill introduced in the state legislature by Sen. Ted Erickson would require heating oil to be blended with biodiesel, as well as lowering the sulfur content in regular diesel:
The bill in Pennsylvania would amend a 2008 bill known as the Biofuel Development and In-State Production Incentive Act. The low-sulfur mandate would go into effect on May 1, 2011; heating oil in Pennsylvania is currently allowed to have a sulfur content of up to 2,000 parts per million. The requirement for heating oil to include 10 percent biodiesel would go into effect on May 1, 2013.
The post goes on to say the Pennsylvania Petroleum Marketers supports the bill, and the Keystone State could be joining other states in the Northeast that either already have or are proposing a biodiesel-in-heating-oil mandate.