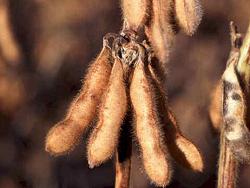 If the biodiesel makers ever get the $1-a-gallon federal tax credit back, the industry could have plenty of feedstock for the green fuel come fall.

This Bloomberg article posted in the Wichita (KS) Eagle says U.S. farmers are expected to plant their largest soybean crop this year:
Soybean plantings will rise 2.1 percent to 79.111 million acres from a record 77.451 million last year, Allendale said today in its 21st annual survey of farmers. Production will total 3.338 billion bushels, down from 3.359 billion last year, the biggest crop ever, based on a projected national yield of 42.7 bushels an acre.
With a little luck, those biodiesel brewers will be able to take advantage of the big crop (despite it being a bit lower than last year) with lower commodity prices.
Another biofuel that could end up benefiting from farmers' efforts would be ethanol. Bloomberg is expecting that green fuel's main feedstock, corn, to have the second-biggest area planted since World War II and a projected record yield of 13.243 billion bushels.