When it's finished, it will produce nearly twice as much biodiesel as the entire country of Canada produces now and will supply our friends to the north with one-fourth of their increasing national demand by 2012.
The Edmonton Journal reports that the Bio-Street plant in Vegreville will begin construction later this year … just in time for Canada's 2 percent biodiesel mandate to kick in in two years: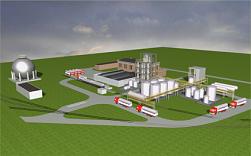 "With these federal standards, that means there will be a demand for one billion litres. And some provinces are going further, with B.C. requiring five per cent biodiesel by 2012," vice-president Angela Reid told the Resource Industry Suppliers Association on Thursday.
"Our plant will produce 225 million litres, and will also produce canola meal, glycerine and potassium fertilizer."
Currently, Canada produces less than 150 million litres of biodiesel each year, with the rest coming from U.S. suppliers, which largely use soybeans rather than canola.
BioStreet has 34 hectares of land, and after 18 months of waiting expects provincial and federal regulatory approvals within weeks.
Groundbreaking for the plant will begin sometime after this summer.