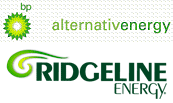 The site for the largest wind farm in Idaho has been picked by the two companies that will construct the project.
KIFI-TV in Idaho Falls says Ridgeline Energy, LLC, and BP Wind Energy will soon start building the Goshen North wind farm, a facility that is expected to generate 124.5 megawatts:
"We are excited about commencing Goshen North construction and furthering our commitment to wind energy development in Idaho," said Steve Voorhess, Ridgeline Energy CEO. "Goshen North and our other Idaho wind energy projects will help diversify the region's energy supply while continuing Idaho's tradition of clean energy generation."
The site will sit on 11,000 acres 10 miles east of Idaho Falls. It will have 83 GE wind turbine generators. When it is in operation, the farm has the potential to deliver 380 million kilowatt hours of electricity.
The companies said the project will employ about 250 people during the peak of construction.
"The investment that BP and Ridgeline Energy are making will create new jobs during construction, deliver an additional revenue stream to rural communities without impacting traditional farming and ranching, and provide clean, affordable power," said John Graham, BP Wind Energy President.
The Goshen North wind farm will power about 37,000 homes.