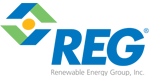 It's come a long ways since its early days as part of West Central CO-OP's Ralston, Iowa (right next to this author's hometown of Glidden, Iowa) operation, and now Renewable Energy Group has become North America's largest wholly-owned biodiesel manufacturing and marketing source.
This company press release says REG gained that status after recently acquiring biodiesel plants in Iowa and Illinois:
Shareholders in Central Iowa Energy, LLC, (30 MGY facility in Newton, Iowa) and Blackhawk Biofuels, LLC, (45 MGY facility in Danville, Ill.) voted affirmatively in late February to an all-stock transaction making their facilities wholly-owned by Renewable Energy Group, Inc. The consolidation brings REG's wholly-owned manufacturing capacity to 122 MGY.
REG's Chairman and Chief Executive Officer Jeff Stroburg cited demand by major petroleum distributors and oil refiners as a key factor in the decision to move forward with plant consolidation. "With the Renewable Fuels Standard (RFS) now in effect, the distillate market is demanding technical expertise, dependable supply, more efficient distribution and creative pricing options from major biodiesel partners," Stroburg said.
The transaction is part of a nearly year-long process to bring the plants under the REG umbrella. REG's other wholly-owned facilities include a 12-million-gallon-a-year plant where it all began, Ralston, Iowa, and a 35 MGY biodiesel refinery in Houston.