It's been a long road, but according to a company statement released by Dresser Wayne, Underwriters Laboratory (UL) has approved the use of the company's Ovation Eco Fuel dispenser for the use ethanol blends up to 25 percent (E25). This is great news as the ethanol industry waits to hear if the Environmental Protection Agency (EPA) will rule in favor of the E15 waiver, which would allow up to 15 percent ethanol blends to be used in conventional vehicles.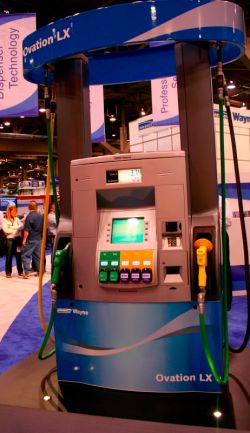 "Motorists continue to call for greener fueling solutions and retailers are demanding technologies that will help them stay in front of the market opportunity while managing regulatory changes," noted Scott Negley, Director of Alternative Energy Products at Dresser Wayne. "Our Eco Fuel dispenser is in use across North America and is designed to handle the higher blends without modifications."
UL has been working to certify various pump dispensing equipment for use with higher ethanol blends even though there has been widespread use of these components to dispense E85 for more than a decade. Should the E15 waiver be passed, retailers who have installed the Eco Fuel dispenser will not have to modify or upgrade any equipment. For those consumers looking to use more than E15 and own a flex-fuel vehicle, will be able too use any blend of fuel between E10-E85.
"UL's certification of this dispenser for up to 25 percent ethanol use is an important step forward and will help expand the use of ethanol," said Renewable Fuels Association Director of Market Development Robert White. "With EPA expected to approve 15 percent ethanol blends sometime this year, this announcement provides some comfort to gas station owners facing increased ethanol blending. Likewise, it provides comfort to stations looking to install blender pump technology offering a wide range of blends from 10 up to 85 percent."
There have been several recent announcements from the ethanol industry to increase the number of blender pumps across the country. The RFA is working alongside the American Coalition for Ethanol and numerous state corn groups to install 5,000 blender pumps in the next three years as part of its Blend Your Own Ethanol campaign. Growth Energy recently announced that it is offering funding for blender pump installation between $2,500-$5,000.