The E15 waiver was a hot topic during Commodity Classic and for good reason: EPA administrator Lisa Jackson, in response to a question asked during a Congressional hearing, said she felt they'd be ready to make a decision late summer. Originally, the EPA was to have ruled on the E15 waiver, that would waive the Clean Air Act to allow up to 15 percent ethanol in motor vehicles, by the beginning of last December. At that time, they deferred to mid-summer – now they are saying possibly by end of summer.
"Though without giving a date, clearly that date has passed and that's troubling I think, and we've got to keep the pressure on," said Brian Jennings, the Executive Director of the American Coalition for Ethanol (ACE) during an interview with DomesticFuel during Commodity Classic.
According to Jennings, Robert White with the Renewable Fuels Association (RFA), and Secretary of Agriculture Tom Vilsack, the EPA is doing more work on small engines and the effect of ethanol blends on catalytic converters. This despite the large number of research already available.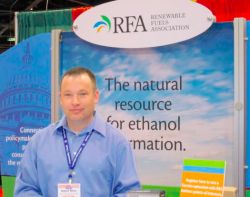 "But it does seem frustrating to us that they keep looking for some sort of excuse to delay or not to make the decision when we feel the preponderance of evidence, so far, and as it continues to come in, is going to justify this," continued Jennings.
Both Vilsack and White agree and feel that the E15 waiver will pass – especially since the Renewable Fuels Standard mandates 36 billion gallons of ethanol by 2022 and the E10 blend wall is approximately 14 billion gallons and White notes that there are 22 billions gallons above the blend wall that need to find a home.
"E15 is great, but it's still a band aid for the real issue and the sticking point is going to come very soon and the problem we've been facing for well over a decade is you simply can't flip a light switch for this infrastructure to be there," explained White.
You can download (mp3 file) or listen to a Robert's interview here: [audio:http://www.zimmcomm.biz/commodity-classic/WhiteE15.CC10.mp3]
You can download (mp3 file) or listen to Brian's interview here: [audio:http://www.zimmcomm.biz/commodity-classic/JenningsE15.CC10.mp3]