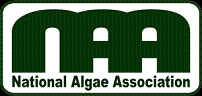 Our friends at the Mid-South Chapter of the National Algae Association are holding another seminar. This time the talk will be "Algae: Mining Wastewater for Nutrients, Fuel, and Fertilizer" at the Holiday Inn Research Center in Huntsville, Alabama on March 26, 2010.
I caught up with the chapter's president, Tamra Fakhoorian, to talk about this information-packed workshop that will explore using wastewater streams to grow the algae for end-products to include biodiesel.

"Algae production is gaining momentum all over the world, and I want to ensure the algae industry gets off on the right foot regarding sustainability," says Fakhoorian.
She adds that using wastewater to grow algae is a win-win-win situation: getting oil for growing biodiesel and end-products industries, minimizing the impact on fresh water sources, and saving the environment.
You can hear more of my interview with Fakhoorian below.
Fakhoorian has some pretty good experts slated for this one-day workshop, including:
Mark Zivojnich/Hydromentia
Aron Stubbins/ Old Dominion University- Deputy Director of Virginia Coastal Energy Research Consortium
Dr. Michael Baron
Chuck Pardue/Algae Bioenergy Solutions, LLC
Luke McConnell/Renewergy, LLC
Bob Vitale/WaterWheel Factory
Victoria Kurtz/Fluid Imaging
For more information, contact Fakhoorian at 270-328-8314 or e-mail her at tamraf.naa@wk.net. Also you can check out the Web site: www.nationalalgaeassociation.com and click on the Mid-South Chapter link. Registration is available at the door.