"Some people believe that corn ethanol is an old technology. We believe just the opposite," said John Caupert, the Director for the National Corn-to-Ethanol Research Center (NCERC) during an interview with me at Commodity Classic. "We feel the corn ethanol industry is still in its infancy and through technological advancements, there's much more to learn and prove in corn ethanol production."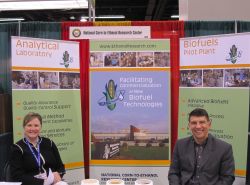 In the last two-to-three years, Caupert noted that there has been a major emphasis on technological improvements such as corn fractionation, and aneorbic digestion, things that would incorporate capital upgrades or capital investments in the ethanol plant. In terms of corn ethanol production, a lot of focus has been dedicated to advancements in fermentation ingredients such as enzymes and various strains of yeast.
The NCERC has also played a role in the debate over indirect land use. Caupert explained that they have done a lot of research that focuses on the value of how co-products improve the greenhouse gas footprint of fuel ethanol production.
"I think more often than not, we forget about the fact a corn ethanol plant in addition to producing fuel ethanol, also produces this high value livestock feed called distillers grains," said Caupert.
They will continue to look at this data and make recommendation about how the co-products should add value to corn ethanol in the indirect land use arena.
Listen below to hear my entire interview with John.