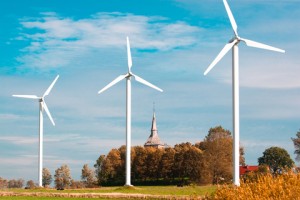 You don't hear much about North Dakota, especially about renewable energy. But today, that is changing. One of the top states for wind, they are inviting people to take an "energy tour" through North Dakota. The tour begins with a look at its oil shale production capabilities (and you thought oil shale was only for Canada). The Wall Street Journal recently featured the state's oil exploration efforts to cultivate more than an estimated 4 billion barrels of oil underneath the Baaken shale.
In addition to this project, the tour may stop at three other locations including a North Dakota wind farm. As of the end of 2009, the state broke in to the Top 10 Wind Producing States with its 6,500 MW of current production with another 6,500 MW planned. LM Glasfiber and DMI Industries are two companies that recently committed to wind projects in North Dakota.
Next, you may check out the Great Plains Synfuels Plant located in Beulah. According to the company, it is the only commercial-scale coal gasification plant that produces synthetic natural gas from coal in North America. By selling its CO2, captured as a byproduct of production, the sales are estimated to be as much at $30 million each year.
Finally, you may stop at Great River Energy's Blue Flint Ethanol plant located at Coal Creek Station. Coal Creek Station is the state's largest power plant using 22,000 tons of coal each day. Sited next to the plant is the Blue Flint Ethanol plant that produces 50 million gallons of ethanol per year and utilizes the waste heat from the coal plant for production.