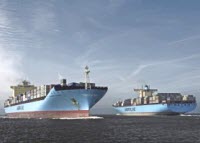 Dutch shipping giant Maersk Line is joining with Lloyd's Register to test biodiesel in its marine engines for the next two years.
This story from the Journal of Commerce says the feasibility study on the container ship Maersk Kalmar will be funded in part by the Dutch government:
Using fatty acid methyl esters – a biodiesel product known as FAME — the tests will use a blend of between 5 percent and 7 percent biodiesel to examine a long list of potential problems.
"One of the aims of the tests is to establish the degree to which issues experienced by the automotive industry in the use FAME, will be duplicated on board ship, in particular the impact on storage stability, handling and its subsequent use in the engine. Where adverse effects are arising it is hoped to find solutions to overcome them," said Kim Tanneberger, specialist of Lloyd's Register's Strategic Research Group.
In addition to testing the performance in its engines, Maersk will be looking at storage issues with the biodiesel.