"I'm not troubled by getting it right as long as we get it right. And I think we're headed in the right direction. I'm anticipating we'll see some increase in the blend rate," said Secretary of Agriculture Tom Vilsack during a press conference at Commodity Classic when asked about EPA's delaying the decision to increase the blend rate to E15.
However, prior to addressing the status of the E15 Waiver, Vilsack began by noting that biofuels are a good way to bring prosperity and economic vitality to all regions across the country. Rural America is disappearing and farmers have been one of the hardest hit groups during this financial crises. He explained that its not just growing the crops that help farmers but also the jobs it creates for residents of rural communities who work in the ethanol plants and other companies that are tied to biofuels production.
Circling back to E15, approving a higher blend is essential to reaching the country's goal of producing 36 billion gallons of biofuels by 2022. Per the mandates as set by the EPA as part of the Renewable Fuels Standard, nearly 10 percent of all fuel will be blended with E10 in 2010. Without higher blends, including E85, there is no where for the fuel to go.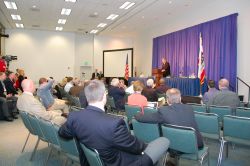 Yet earlier this week, the EPA announced that it was delaying any decision on increasing the blend level to E15 until the end of the summer. Vilsack commented that the purpose of the delay is due to ongoing testing by the Department of Energy to determine what engines can use the higher blend without ill effects. It has already been established that newer vehicles, and all flex-fuel vehicles can use the higher blend safely, "Which suggests to me that we're going to see an increase in the blend rate," said Vilsack. He then noted that it will be important to use rural development resources to make sure the distribution systems create the opportunities for people to use higher blends.
You can see photos from Commodity Classic here.
You can listen to Vilsack's comments on biofuels here.