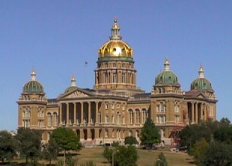 A proposal to mandate a 5 percent biodiesel blend in every gallon of diesel sold in Iowa has died in one legislative committee … but could be reborn in another.
The Fort Dodge (IA) Messenger reports that the House environmental protection committee's ranking member, Rep. Steve Olson, R-DeWitt, declared the bill dead:
Olson said the GOP caucus was opposed to the bill because it opposed mandates. However, even though the bill died in one committee, it could be revived in another or amended into another bill before the session ends, he said.
Rep. Gary Worthan, R-Storm Lake, who is the ranking member of the House ag committee and also sits on the transportation committee, heard both days' testimony and said that although he is opposed to mandates in general, Iowa may have to mandate 5 percent blended biodiesel in order to save the industry.
"Right now biodiesel is where ethanol was 15 years ago," Worthan said. "There's no market access for it." He said he fears that what happened in 2009 with petroleum refiners purchasing failing ethanol plants for pennies on the dollar, may happen soon with biodiesel plants unless they can get a strong financial footing.
Worthan added that biodiesel blends are more uniform than in the past to meet federal standards, and that should make the green fuel more attractive than years ago when standards were a bit looser.