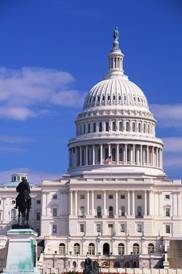 It looks like the federal biodiesel tax credit that expired at the end of last year could have new life.
An extension of the $1-a-gallon blenders credit has been attached to the new, $150 billion American Workers, State and Business Relief Act, introduced by Senate Majority Leader Harry Reid (D-Nev.) and Sen. Max Baucus (D-Mont.). Biodiesel Magazine reports that the measure could come to a vote this week:
Biodiesel producers have watched hopefully and helplessly as a tax credit "extender" has been included now in four different pieces of legislation since last fall. For the time being, the industry remains a ringside spectator.
One Biodiesel Magazine source said the fact that some players in the biodiesel industry were "double-dipping" in 2007 and 2008 by taking the $1 per gallon federal excise tax credit for methyl ester blending, then shipping the fuel to Europe to cash in on additional subsidies, has caused a "public relations issue."
It's interesting that the biodiesel credit was too expensive of a provision when it was a bi-partisan measure from Baucus and Republican Sen. Charles Grassley from Iowa. Now, that Reid has his name attached, it is suddenly affordable. Hmmmm…