The former head of the U.S. Export-Import Bank and Chief Investment Officer of the U.S. Treasury Department's Troubled Asset Relief Program (TARP) is bringing his copious financial knowledge to algae-biofuels producer Sapphire Energy.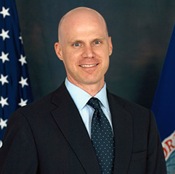 This company press release says James Lambright will also head Sapphire's international expansion efforts:
A respected leader in the private and public financial sectors, Lambright rounds out an already impressive leadership team, which, since 2008, has focused its efforts on producing a scalable, renewable, low carbon liquid transportation fuel from algae, sunlight and CO2.
In this newly created role, Lambright will expand Sapphire's presence in international markets where, just like America, complex energy needs dominate the agenda.
"No matter the issue – climate change, national energy security, or job creation – Sapphire Energy is poised with a solution – Green Crude," says Jason Pyle, CEO of Sapphire Energy. "We have unequaled expertise in science, energy, and transportation. And now with Jim on board, we've added a depth of international markets and finance experience unmatched in our industry. That, plus the recent federal funding award and our healthy independent investment funds, positions Sapphire well down the path to make Green Crude commercial-ready."
Lambright adds that he is excited to join Sapphire Energy, and it is the perfect place to help address the most complex challenges facing economies around the world: energy security and the environment.